Profile
Dr Mi Tian
Professional Activities
Dec 21, 2022
Our paper 'Freeze casting of porous monolithic composites for hydrogen storage' is now published on the journal of Material Advanced and on the cover! https://pubs.rsc.org/en/content/articlelanding/2022/MA/D2MA00710J
June 11, 2022
It was such great fun yesterday afternoon to talk about hydrogen "the fuel of the future" at Soap box science and learned other fantastic work from the female scientists.
The Soapboxscience brings top women in STEMM to their soapboxes to talk science with the public on the streets.
April 26, 2022
Dr Tian gave a talk on 'Dynamics of hydrogen confined in pores via neutron scattering.' at UK Neutron & Muon Science and User Meeting (NMSUM), which was the first in person talk and meeting in the two years.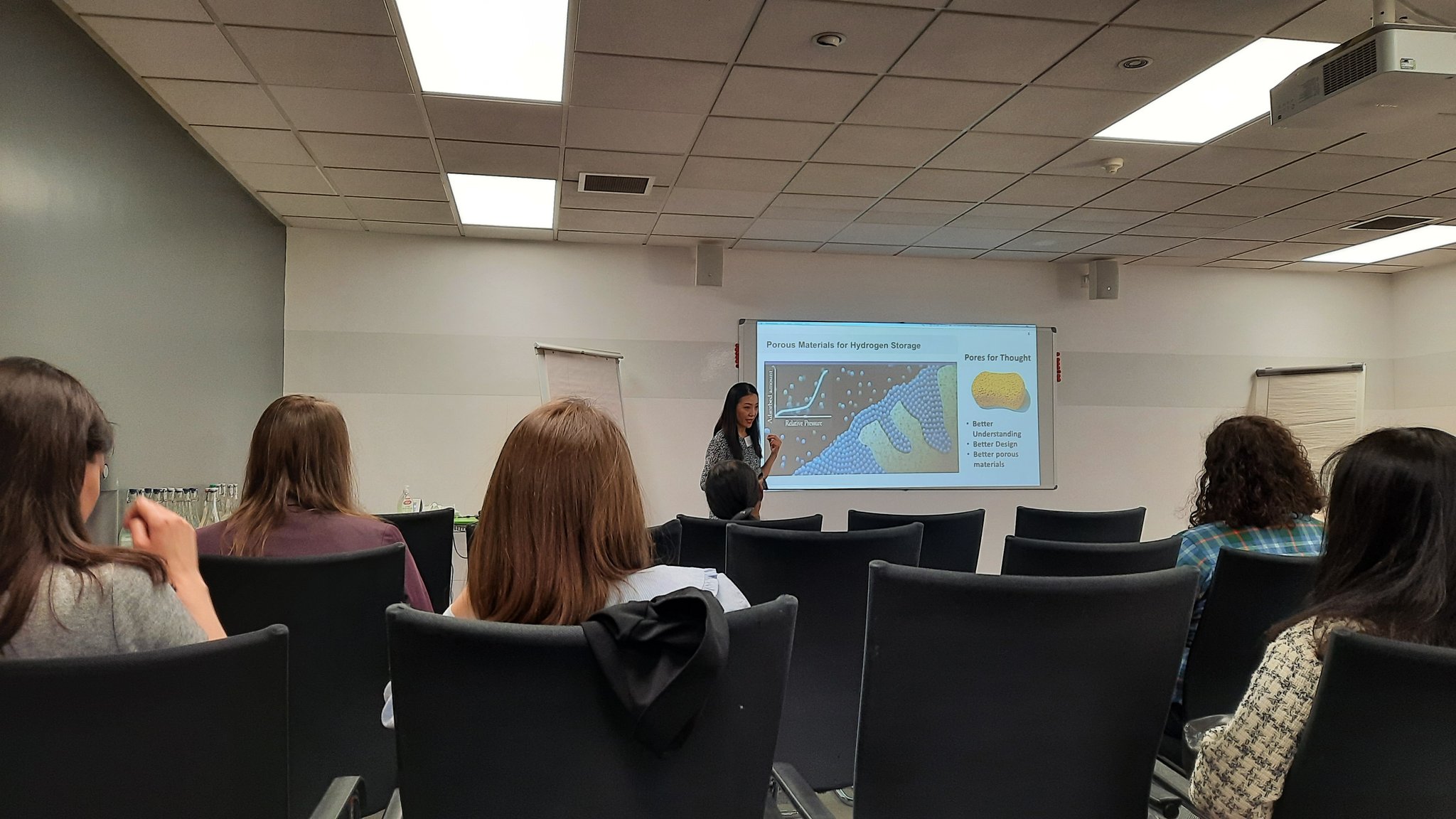 March 31, 2022
Success in the Royal Society International Exchanges Cost Share (NSFC) grant.
This grant will enable the collaboration with Professor Xiayi Hu's research team at the Xiangtan University on the project ' Tunable metal-organic frameworks (MOFs) for carbon capture and storage'.
January, 18, 2022
Congratulations to Dr Tian on receiving RSC Enablement Grant 2022.
The RSC Enablement Grant aims to support RSC members to start a new research project. The grant will be used to purchase equipment for a new PhD project.
December 12, 2021
Congratulations to Rosie Rees on her MSc degree.
Rosie's research dissertation was entitled 'Design of Green Hydrogen Supply Chain in Southwest England' that was awarded distinction. Well Done! Rosie started her job as a data analyst in Jersey Electricity after submitting the dissertation.
Translation in Chinese: 我的硕士生Rosie周日毕业典礼。这个也是知识改变命运的经典案例。从社会学科背景做能源毕设,毕业后就业电力行业,成功转型。最近五年是新能源氢能源历史最好时机。例如到2030年仅英国政府就要在英国创造9000个就业岗位。然而在2009-2019年的十年间,氢能源领域的萎缩与没落,造成了人才的巨大缺口。如果你错过了电池行业的风口,请关注我们氢能源领域。
December 5, 2021
Invited talk entitled 'Wind to Hydrogen in Southwest England' and panel discussion on Future Hydrogen Society at ICAE2021, the 13th International Conference on Applied Energy.
Hydrogen is experiencing a promising wave of enthusiasm across the world. Future energy scenarios in the UK are being produced with a reliance on hydrogen, and the growth of the industry. However, the climate challenge and UK decarbonisation targets require hydrogen's carbon-intensive history to be re-written. As decarbonisation has not historically been the focus of hydrogen use, there is relatively little research concerning sustainable hydrogen economies. This study examines the feasibility of a green hydrogen economy for the Southwest of England, using data collection and expert elicitations to produce an optimal design. The cost, emissions, and social impacts of this design are calculated and considered in the evaluation of its feasibility. The designed green hydrogen economy consists of wind powered electrolysis, salt cavern storage, and distribution via pipelines to decarbonise heating in the Southwest England. Various recommendations for further research are given to ensure the growth of the hydrogen industry and its contribution to a sustainable energy system.

November 30, 2021
The high-pressure gas adsorption equipment is being installed in the lab.
October 8, 2021
An interview on Hydrogen Storage at ISIS Neutron and Muon Source
A virtual interview with Valeska Ting (University of Bristol), Nuno Bimbo (University of Southampton) reviewed our research in developing porous materials for hydrogen storage and how ISIS neutron and muon source helps them with their work. Available https://youtu.be/PJezSfMcfdY.
September 2021
Welcome Qian Yu join the group
Qian is joining the group as the CSC-Exeter funded PhD student focusing on developing composites for hydrogen storage and CO2 capture and storage.
June 2021
Mi carried out QENS experiment to investigate dynamics on hydrogen and deuteriumadsorbed on the POCs at ILL, Grenoble, France.
November 2020
Win the first prize presentation
in the 4th INWED celebration organised by CEMPS.
The presentation is available http://https://youtu.be/pbVRhc4wDrE
May, 2020
Win the 2020 Top 50 Women in Engineering: Sustainability (WE50)